Another pitch event of the DEPO Ventures will focus on IMPACT investing in startups

Join us! IMPACT will be all toward a sustainable future. This is an opportunity for a startup, or existing businesses with a strong business plan that focuses on positively impacting their communities. At this live virtual event, selected finalists will pitch their idea-phase, start-up, or established businesses to a panel of judges.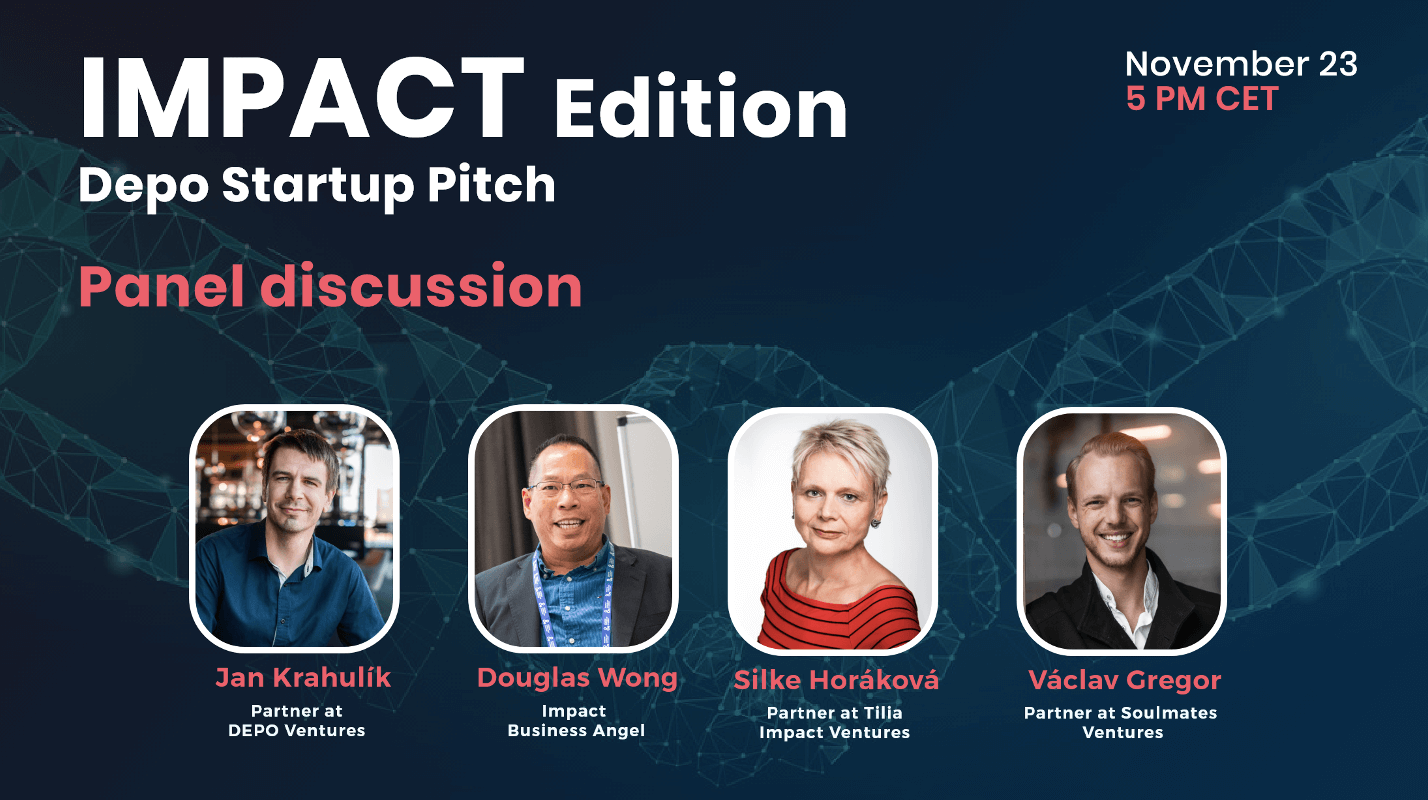 DEPO Ventures is organizing another online event, which is going to be focused on IMPACT investing. Investing in socially or environmentally beneficial projects is not philanthropy, but on the contrary, growing business. That's hundreds of billions of dollars. The Startup Pitch IMPACT edition will take place on Tuesday, November 23 from 5:00 pm via the Zoom platform. The event will feature promising startups not only from the Czech Republic but also from Central and Eastern Europe, which can help change the world. Silke Horáková from the Tilia Impact Ventures investment fund, Václav Gregor from the accelerator Soulmate Ventures, angel investor Douglas Wong and DEPO Ventures partner Michal Ciffra will all meet in the panel discussion.
"IMPACT will focus on the proactive and responsible use of technologies that have a positive impact on society and the world. We want to bring potential investors all the necessary information that may be useful to them when deciding which promising startup to invest their money in. Startups will be given the opportunity to present their project during a three-minute presentation. After that, they will answer a few questions from investors," says Petr Šíma, founder and CEO of DEPO Ventures.
The aim is to raise awareness of IMPACT startups
The global investment market offers investors a variety of investment opportunities to promote social and environmental solutions through profit-generating investments.
"The number of investments in impact field has grown significantly in recent years, with the global market estimated at $ 715 billion. However, only a few percent of all invested money is going to the region of Central and Eastern Europe, and there is only one impact investment fund in the Czech Republic," says Silke Horáková.
The online event will begin with a panel discussion on impact investing, and it may provide guidance and tips on how to select and invest in these specific startups that have the potential to change the world. Next, where the second block follows, where 10 selected startups will pitch for 3 minutes. The jurors will then ask them a few questions and then at the end they will select the best startup. In the last block, all projects are divided into breakout rooms, which participants can freely enter and ask the founders for additional questions. The whole event aims to raise awareness of IMPACT startups and support their investment and development.
DEPO Startup Pitch will take place completely online via the Zoom platform, from 5 to 7 PM CET. Registration required.
"The Czech startup market has its reserves, especially investing in sustainable technologies. At Soulmates Ventures, we focus exclusively on investments in purpose profit-driven startups, and enter into the acceleration program those that have the prospect of making a significant contribution to a more sustainable future and competing with global players. Within our ecosystem, we support every phase of a startup - from incubation through acceleration to exit or entry of a large investor, and I believe that through events such as DEPO Ventures organizes, there is an opportunity to attract other promising projects to investors ", says Václav Gregor, CEO & Partner at Soulmates Ventures.
Presenting startups at IMPACT edition:
Edamam (USA) - Organizes and structures food and nutrition data and sells it to businesses in the food, health, wellness sectors
TotalCTRL (Norway) - A startup that creates digital products together with restaurants, hotels, municipalities and households. The goal is to give up manual processes and streamline inventory management.
Labbox (Spain) - A company that offers solutions for everyday life in the laboratory.
EduDo (USA) - A mobile learning network that offers short interactive videos created directly by the users of the application.
MIWA (Czech Republic) - A Czech company that wants to modernize bulk sales and open the door to regular stores and supermarkets.
Moree (Netherlands) - A company that wants to shape the future of green bottle development.
Investory (Austria) - Portfolio and investor relationship management platform.
Momsi (Denmark) A company whose application offers mothers quick help in case of emergency as well as a marketplace with proven products and services.
Samurai Labs (Poland) - A frontier laboratory of artificial intelligence transforming understanding of natural language.
Perfect Air (Czech Republic) - A company that combines hydrometeorological data such as wind strength and direction, temperature, pressure, humidity, but also data from satellites and transport information or geographical data that informs users.

👇
GET YOUR TICKETS HERE